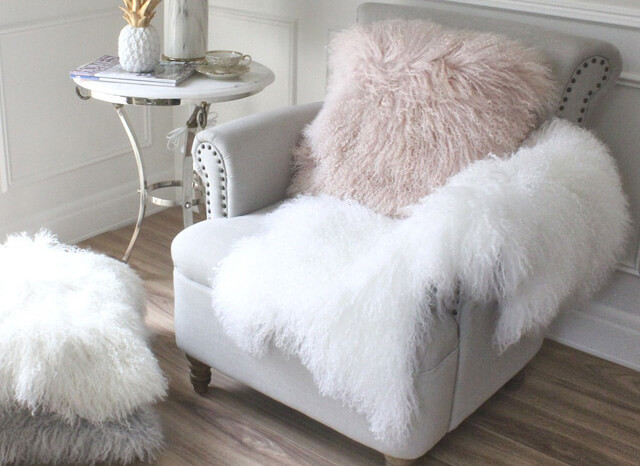 Tibetan Mongolian Fur Cushion Pink
This luxurious animal hides and fur throws are the perfect gift. How often do you find yourself agonizing about what to buy for that special event or occasion, and as the deadline approaches, your worries increase. When you're struggling to choose that special wedding present, for the couple that seems to have everything? Or your best friend needs comforting after a difficult divorce? Or your daughter is fretting about leaving home, to begin her studies interstate? Worry no longer! With Eluxury Home wide range of beautiful fur blankets and throws, They can provide the perfect solution. All you have to do is choose the color.
This Australian Made, light grey Mongolian sheepskin throw will add style and comfort to that new couple's marital bed or to their sofa. And it's most unlikely that they'll receive two of these unique gifts, unlike the toaster which always seems to arrive in pairs! And when the time comes, this beautiful blanket can also be used in baby's nursery! Don't worry, the strict environmentally-friendly tanning guidelines that have been used in its preparation guarantee it is safe for baby. Likewise, both your best friend and your daughter will gain joy and comfort from the luxurious softness of the wool on their skin, snuggling closely as it moves with them from sofa to bed, with their favorite Netflix series and decadent chocolates close by.
The Eluxury Home Tibetan Mongolian sheepskin woolen cushion is luxuriously soft and of premium quality with distinctive luscious long hair making them a stunning accent feature. Mix and match this accessory with other textures and colors in any bedroom, nursery or living. Whether redesigning a decor or just wanting to add additional textures to your decor, this stylish cushion with super soft fur will create warmth and stylish comfort to your home. Dyed in a pretty blush pink, the elegant and fluffy fleece will add subtlness as you and your family members submerge into luxurious sheepskin comfort.
When you have this cushions, You should pay attention to this:
Lightly shake weekly or use very very low Vacuum setting to clean the cushion when it needed.
If dirty, Spot clean only with warm water carefully, Do not ever wash both machine and manual, Do not soak and Leave it to dry naturally in shade. Keep away from direct sunlight to prevent color fading
No need chemicals to be used for cleaning
This is a decorative and delicate product as Fur Shedding is a natural characteristic of sheepskin therefore it is not recommended to use in high traffic areas in order to prevent knotting and excessive shedding.
Source :
Eluxury Home